H. Pylori Ab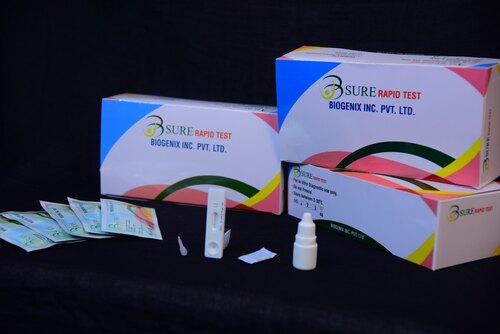 H. Pylori Ab
Product Description
The H. pylori Ab Combo Rapid Test is a lateral flow chromatographic immunoassay based on the principle of the double-antigens and wich technique. The test cassette consists of: 1) a burgundy colored conjugate pad containing H. pylori antigens including Cag-A conjugated with colloidal gold (H. pylori conjugates) and a control antibody conjugated with colloidal gold, and 2) a nitrocellulose membrane strip containing a test line(T line) and a control line (C line). The T line is pre-coated with non-conjugated H. pylori antigens, and the C line is pre-coated with a control line antibody.
When an adequate volume of test specimen is dispensed into the sample well of the cassette, the specimen migrates by capillary action across the cassette.Antibodies (IgG, IgM or IgA) to H. pylori, if present in the specimen, will bind to the H. pylori conjugates. The immuno complex is then captured on the membrane by the pre-coated H. pylori antigens forming a burgundy colored Tline, indicating a H. pylori Ab positive test result. Absence of the T line suggests a negative result.
The test contains an internal control (C line) which should exhibit a burgundy colored line of the immuno complex of the control antibodies regardless of color development on the T line. If the C line does not develop, the test result is invalid, and the specimen must be retested with another device.
Trade Information
If order is confirmed we will reimburse the sample cost

Africa, Middle East, Asia
Contact Us
K-796, Aashiana Colony, Lucknow, Uttar Pradesh, 226012, India
Phone :+918035063375